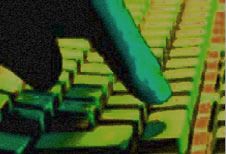 When it comes to business communications services, Burnett Engraving has got it covered. Serving the Anaheim area, we can provide virtually any product or service imaginable to communicate with your clients, employees, stockholders, or vendors.
We're experts at corporate identity pieces. But that's only the beginning. To learn more about the many products and services we offer, please contact one of our representatives.
Products
Engraving

Long considered the standard of quality, engraving is a printing process that utilizes copper or steel dies to create raised letters and images on paper.

Thermography

Thermography is a type of raised printing created by the application of powdered resin to the paper immediately after printing and then heated. The powder sticks to the still tacky ink, expands and raises the ink. This is a process used to create raised letters and graphics on paper more economically than engraving.
Services
We offer thermography printing for sizes up to 19x19.

Foil Stamping

Foil stamping is the application of a thin metallic or pigmented foil using a metal die. The die is heated and pressured onto the foil and paper separating the foil in the covered area of the die and adhering it to the stock.